Last December I had one of the coolest days ever. Lean Cuisine is reinventing and they invited famous chefs and farmers and a handful of bloggers to come to a round table event here in New York just to eat and chat about food and style. They held the round table at one of the coolest venues I've seen – Haven's Kitchen in Chelsea.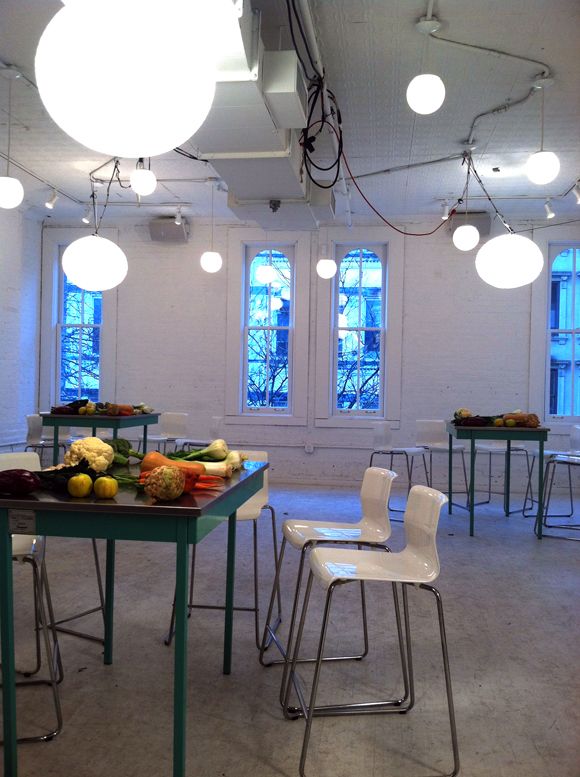 All day long I was sneaking photos of the decor at Haven's Kitchen. Seriously, I want to move in.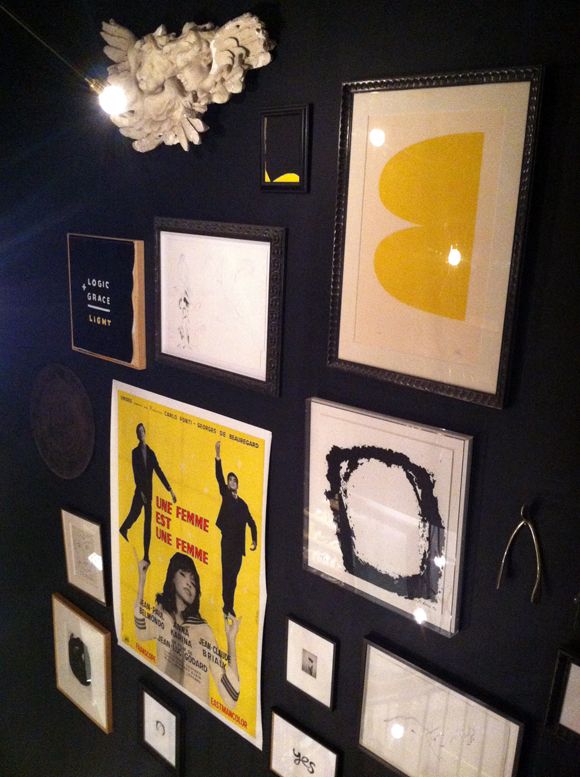 This staircase was stunning with the great, graphic art on the black walls. It was really cool.
Everywhere you looked – amazing, amazing chairs!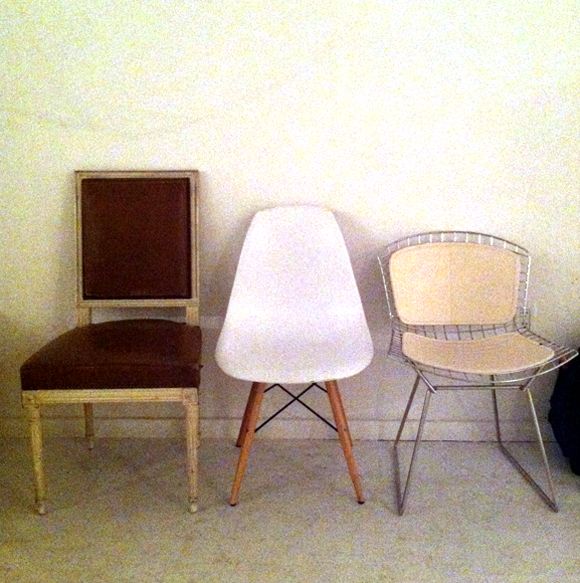 I loved this idea of creating an inset out of subway tiles for a chalkboard wall in a kitchen. I would love to do something like this someday. Uber-chic menu planning!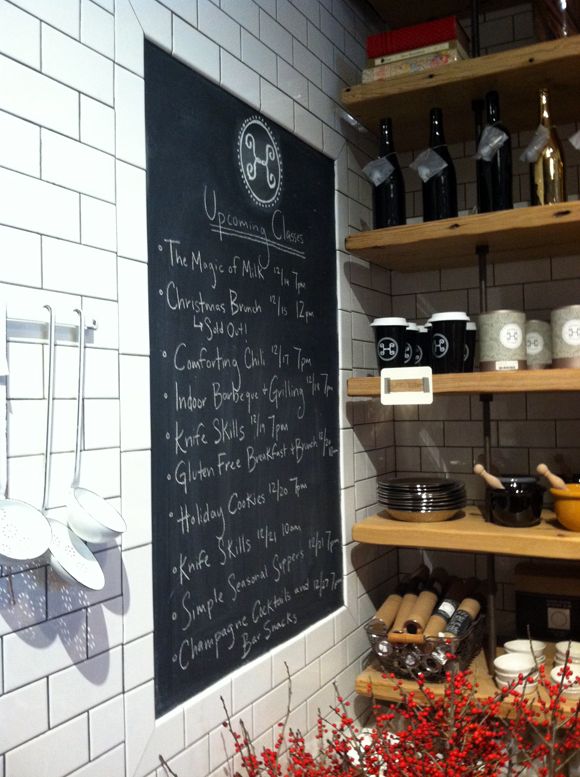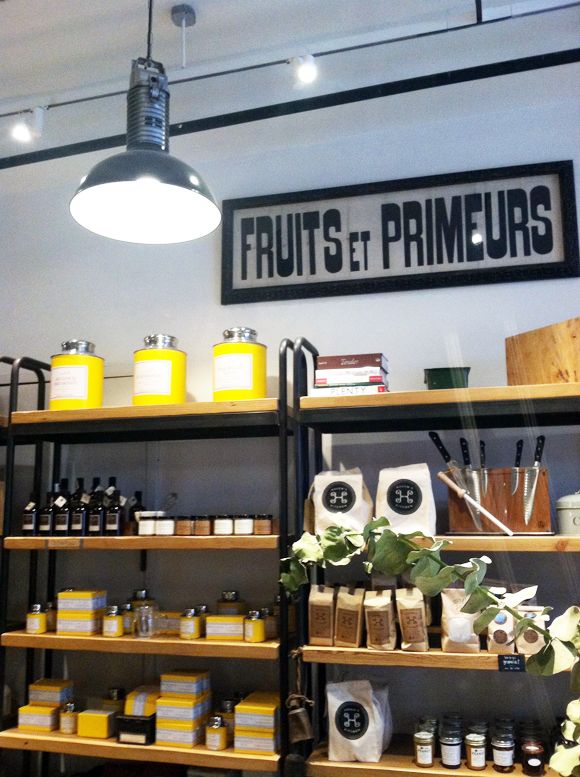 While the decor at Haven's Kitchen was completely drool-worthy, the day was all about the food. We were grouped into three teams for the round table. On each team there were two chefs, a style expert (the bloggers), and a farmer. My team's farmer was Josh Kilmer-Purcell, who had (seriously) won Amazing Race the week before, has a wildly popular blog of his own, and a TV show on the Cooking Channel. Also there could not be a nicer man on the planet.
Our team's chefs may or may not need an introduction. Brad Farmerie is the owner of Michelin star rated PUBLIC and competed on the Food Network's The Next Iron Chef. He was hilarious and the life of our party, for sure. And James Beard Award-winner Michelle Bernstein of Top Chef fame is probably one of the most famous chefs out there, so I probably don't need to tell you about her successes. I will say that I want to fly down to Miami to hang out with her for a week straight, just to hear her tell stories and share wisdom. Seriously, what an inspiring woman.
And then there was me. My job was to shop around the city for some pretty things to set the table with, inspired by Josh's produce and Michelle and Brad's dishes. And then just eat and talk about food and style. Best job ever, right? I could so easily do the eat-decorate-talk-eat-decorate-talk rotation until the cows come home.
Here we are making plans for the dishes and decor. We all decided something more rustic and earthy would be perfect for the table setting.
While the chefs got to work in the kitchen, I hopped into a giant van, armed with two assistants, but with only two hours to rush around the city and buy everything to set the table for our team. I'll admit, it was a teensy bit stressful, but mostly it was just really, really fun.
My first find was actually at West Elm. These wooden antler candle holders were just the look we were after – modern, sort of Scandinavian and a bit rustic.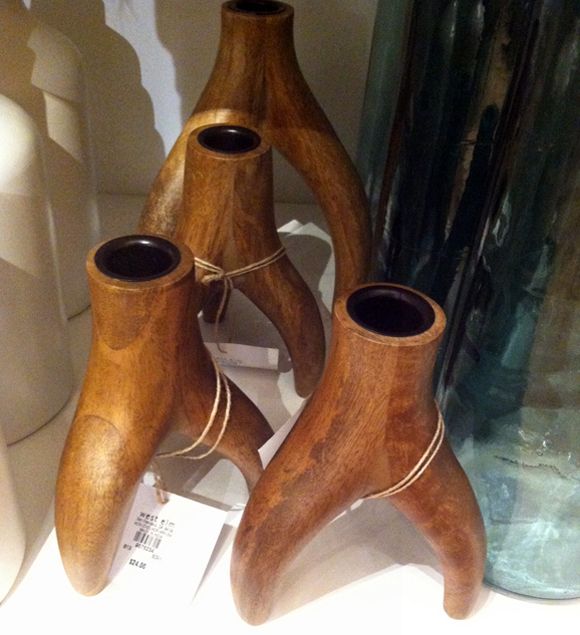 We shopped at about ten other stores and things sort of fell into place. It was fun to see what my fellow bloggers Liz and Jessie found while they were out scavenging for place settings and flowers too.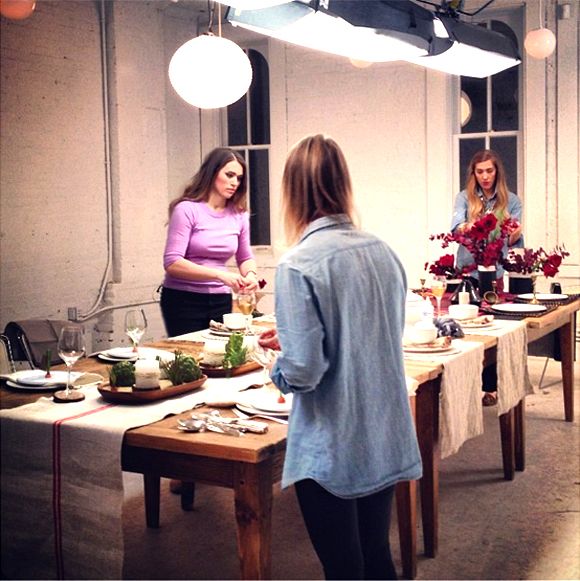 I checked in with the chefs just before dinner (it smelled so good in that kitchen) and they loved the direction our table design was going.
And here's what I came up with for my version of a Scandinavian/rustic/modern table: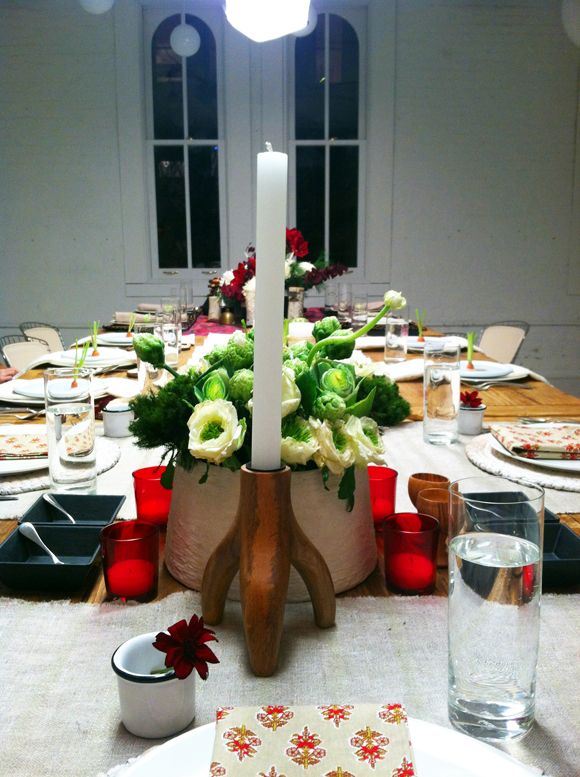 I bought the striped linen at Jem fabrics and literally ripped it into two wide strips so the edges would be a little frayed. I tried to have a lot of textures on the table – linen, woven chargers, smooth woods and soapstone, hand-thrown porcelain, etc.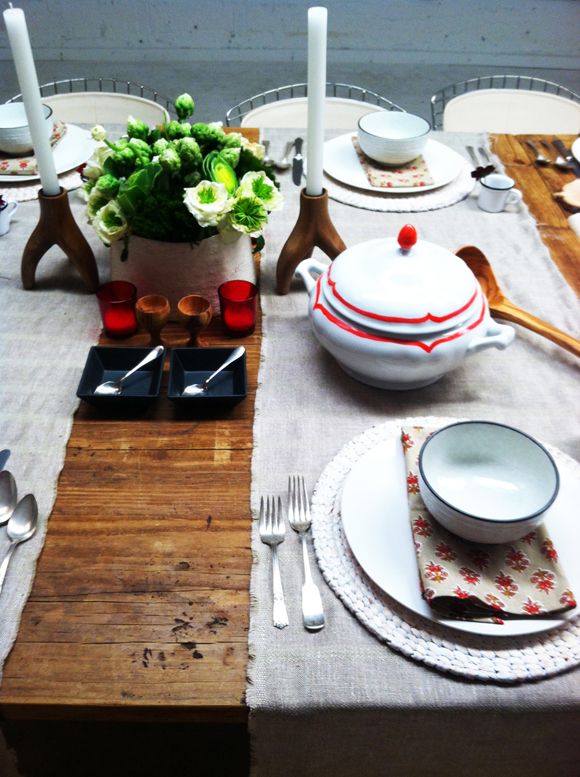 I found these mini enamelware mugs in the clearance section at Sur la Table. I'm discovering that I like to have a big floral centerpiece and then little individual flowers at each setting. I think it is so pretty and makes guests feel special. Also, how great is this antique engraved silverware that we borrowed for the dinner? It weighed a ton and made everything taste even more delicious. :)
I found a lot of the little accessories at thrift stores and at Pearl River Market.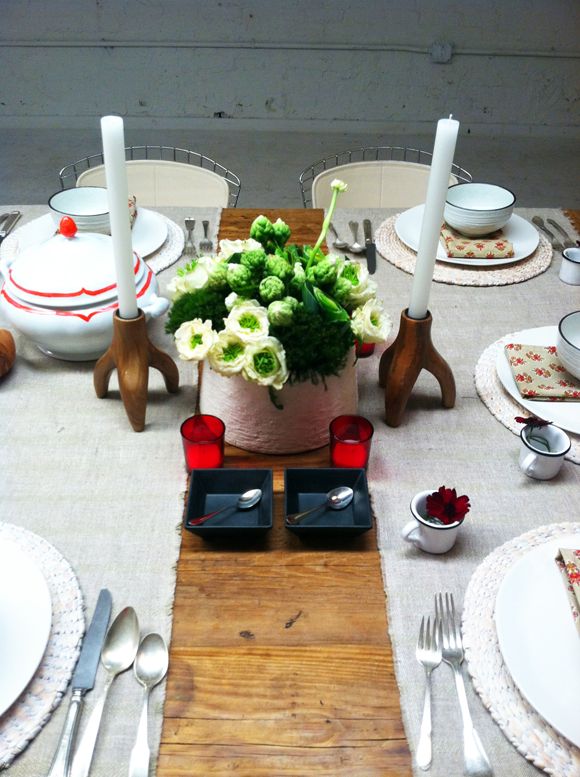 The soup tureen was probably my favorite thing on the table, though. Michelle had a fabulous Celeriac soup on the menu, so she asked me to pick up a tureen. I really wanted to find something unique to be the focal point of the table, but everything I saw out shopping that wasn't all white was really fussy-looking. So I bought a plain white one on sale and picked up some porcelaine paint at the art supply store and painted on the bright red border on the tureen. I really love how it turned out. Just enough color for our "rustic" table.
The flower arrangement was another favorite part for me. I didn't end up having the time to pick up enough flowers to completely fill the creamy white faux bois vase I had found at Housing Works, so I filled the empty spaces in the vase with herbs I snuck from the kitchen and even some leek stems, which kind of look floral when they're cut on the diagonal! :)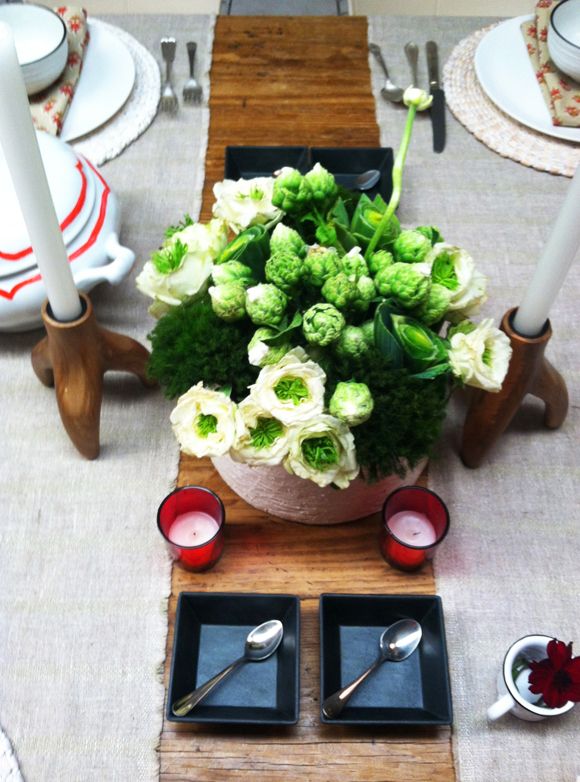 You'll have to keep an eye out for Liz and Jessie's posts about their table settings – they both did a really great job. I love those talented ladies.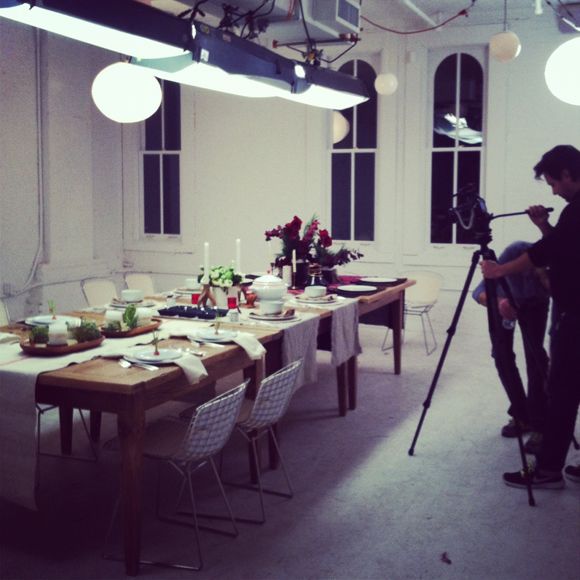 After the table setting was done, the food was brought out and that's about where my memory drops off. (TOTAL FOOD COMA.) I ate way too much, but how was I not going to at least taste every single one of those super-delicious dishes made by super-duper-famous chefs!? No choice in the matter at all. It all was so, so good.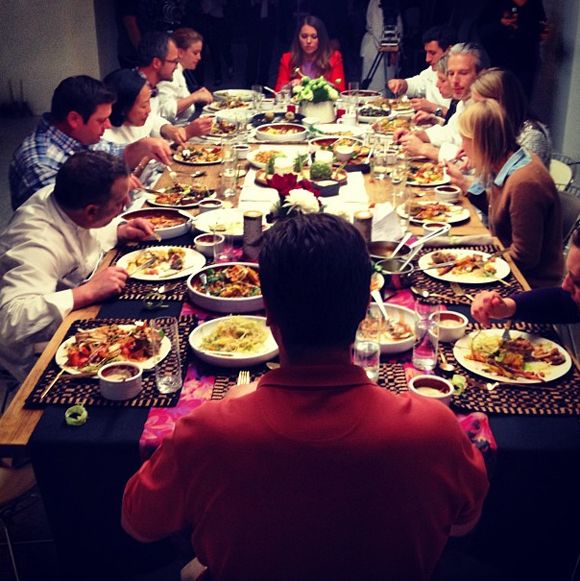 I was so honored to be a part of this round table. Meeting all of those talented, creative people, hearing their thoughts about the future of food, and, of course, tasting all that deliciousness was nothing short of completely inspiring.
PS The entire event was filmed (there are lots of clips on Youtube), if you're interested in seeing a little more from the day!
This post is brought to you by Lean Cuisine . I was invited to the Lean Cuisine Culinary Round Table and was provided with a stipend for the visit and experience. All thoughts and opinions surrounding the experience are authentically my own.